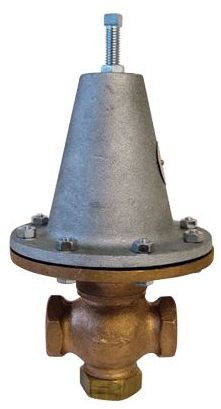 B-Series Regulator
B-Series
Specifications
Model
B-Series
Service
Water, Air, Oil, Other Gases & Liquids
Sizes
1/2'' – 4''
Connections
NPT, 125# FLG, 250# FLG
Body Material
1/2'' – 2-1/2'' Bronze

3'' & 4'' Cast Iron

Disc & Diaphragm
Viton – 300°F max
Max. Capacity (Liquid)

Max. Capacity (Gas)

984 GPM

12,880 SCFM

Max. Inlet Pressure
250 PSIG
Min. Inlet Pressure
10 PSIG
Max. Differential Pressure
125 PSI
Min. Differential Pressure
20% of Inlet Pressure
Contact Us for more information on this product and to see other sizes that fit unique applications.
Typical Applications
The B-Series Pressure regulators are primarily used for reducing pressure in water systems. Also suitable for air, oil, and other liquids or gasses. The B-Series offers much higher capacities than the O-Series. These regulators are commonly found in industrial plants, apartment buildings, schools, and water distribution and supply systems.