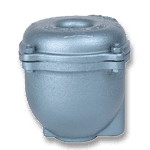 Exhaust Heads
EHC, EHF, & EHFSS
Specifications
Model
EHC
EHF, EHFSS
Sizes
1", 1 ½", 2", 2 ½", 3", 4", 5", 6", 8", 10"
2", 2 ½", 3", 4", 5", 6", 8", 10"
Connections
NPT, 125# FLG
150# FLG
Body Material
Cast Iron
EHF (Carbon Steel),

EHFSS (Stainless Steel)
Contact Us for more information on this product and to see other sizes that fit unique applications.
Typical Applications
Exhaust Heads are used to separate entrained water from flash steam prior to being discharged or vented to the atmosphere. Typically used to eliminate water damage to rooftops and other equipment
© Copyright 2023 SSI Services, Inc. All rights reserved.
Website crafted by HB/CO Digital.