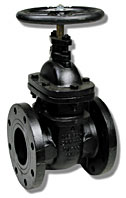 Gate Valves
Gate Valves
Specifications
| | |
| --- | --- |
| Size Range | Various |
| Connections | Threaded (NPT), Socket Weld, Flanged |
| Body Material | Cast Iron, Cast Steel, Brass-Bronze, Ductile Iron |
Contact Us for more information on this product and to see other sizes that fit unique applications.
How It Works
A gate valve is the most common type of valve used in any process plant. It is a linear motion valve used to start or stop fluid flow. When the gate valve is fully open, the disk of a gate valve is completely removed from the flow. Therefore, virtually no resistance to flow. Due to this very little pressure drops when fluid passes through a gate valve. In service, these valves are either in a fully open or fully closed position.
© Copyright 2023 SSI Services, Inc. All rights reserved.
Website crafted by HB/CO Digital.