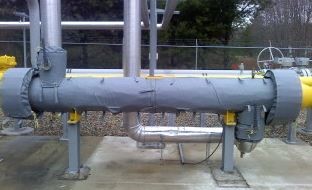 Insulation Jackets
Insulation Jackets
Specifications
Insulated jackets are designed for controlling temperature of its contents, by using a cooling or heating "jacket" around the vessel through which a cooling or heating fluid is circulated.  Jackets can be applied to the entire surface of a vessel or just a portion of it.  They can also be divided into zones, to divide the flow of the heating or cooling medium.
Advantages include: ability to direct flow to certain portions of the jacket, such as only the bottom head when minimal heating or cooling is needed and the entire jacket when maximum heating or cooling is required; ability to provide a higher volume of flow overall (zones are piped in parallel) because the pressure drop through a zone is lower than if the entire jacket is a single zone.
Jacketed vessels can be employed as chemical reactors (to remove the elevated heat of reaction) or to reduce the viscosity of high viscous fluids (such as tar).
Contact Us for more information on this product and to see other sizes that fit unique applications.
Typical Applications
Benefits of using Insulation Covers: reducing energy costs, enable periodic maintenance, prevent waste and excess cost of hard insulation, extend the life of equipment & machinery, and improve workplace safety
Common Items:
Steam Traps
Heat exchangers
Boiler doors
Turbines
Condensate pumps
Condensate tanks
Superheaters
Control valves
Compressors
Engines and motors
Ductwork
Steam Piping/Other