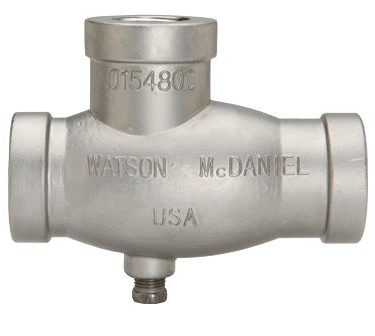 Steam Trap Accessory
Suction/Mixing Tee
Specifications
Model
Suction Tee
Sizes
1/2'', 3/4'', 1'', 1-1/4'', 1-1/2'', 2'', 2-1/2'', 3''
Connections
NPT
Body Material
Cast Iron – 125# & 250#

Bronze – 250#

Stainless Steel – 300#

PMO (Max. Operating Pressure)
–         Cast Iron
250 PSIG @ 406°F
–         Bronze
300 PSIG @ 422°F
–         Stainless Steel
450 PSIG @ 400°F
Contact Us for more information on this product and to see other sizes that fit unique applications.
Typical Applications
The Watson McDaniel Cast Iron, Bronze or Stainless-Steel Suction/Mixing Tee is a specialized type of pipe fitting used for blending, agitation, recirculation, mixing, aeration and heating.
© Copyright 2023 SSI Services, Inc. All rights reserved.
Website crafted by HB/CO Digital.