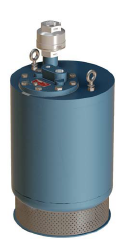 Sump Pump Drainer
PMPSP
Specifications
| | |
| --- | --- |
| Model | PMPSP/PMPSPL |
| Connections | 1-1/2'' to 2'' |
| Body Material | Carbon Steel |
| Cover Material | Ductile Iron |
| Mechanism and Check Valve Material | Stainless Steel |
| PMO (Max. Operating Pressure) | 150 PSIG |
| TMO (Max. Operating Temperature) | 366°F |
| PMA (Max Allowable Pressure) | 150 PSIG @ 650°F |
Contact Us for more information on this product and to see other sizes that fit unique applications.
Typical Applications
The PMPSP Sump Drainer uses the same internal mechanism as the standard PMP models. The piping configuration is such that the liquid is discharged vertically out the top as opposed to horizontally out the side. This allows the unit to be easily positioned inside of a sump area. Condensate or water from the sump enters the tank through a stainless-steel low resistance check valve. This unit is capable of operating with a maximum motive pressure of 150 PSIG using steam, air, nitrogen or other pressurized gas as the motive force.