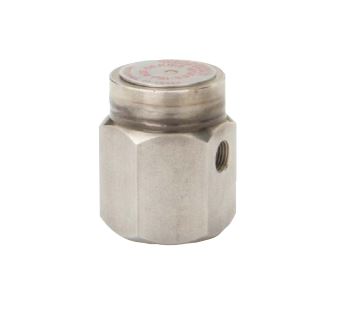 Vacuum Breaker
WVBSS
Specifications
| | |
| --- | --- |
| Model | WVBSS-12-N |
| Sizes | 1/2'' |
| Connections | NPT |
| Body Material | Stainless Steel |
| PMO (Max. Operating Pressure) | 300 PSIG |
| PMA (Max. Allowable Pressure) | 300 PSIG up to 752°F |
| TMA (Max. Allowable Temperature) | 752°F @ 300 PSIG |
Contact Us for more information on this product and to see other sizes that fit unique applications.
Typical Applications
The WVBSS Vacuum Breaker is used on heat exchangers, air coils, jacketed kettles, pressing machines, boiler feed water tanks, sparge systems, water lines, or anywhere else an unwanted vacuum may occur. The WVBSS allows air to enter the steam or liquid system in order to "break the vacuum" caused by the condensing of steam or draining of liquid from a system. The elimination of vacuum is necessary to allow proper drainage of liquid from process systems.