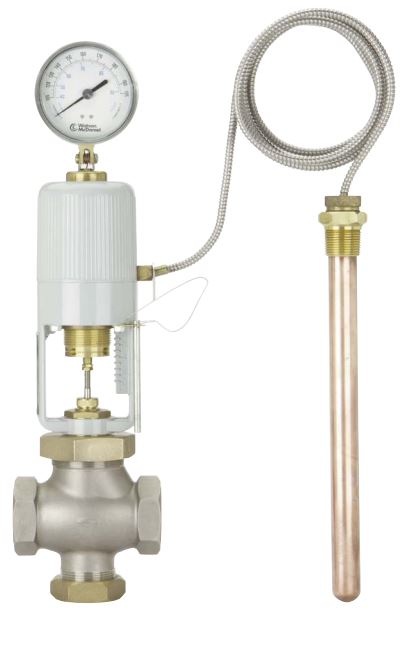 Self Operated Temperature Regulators
W91/94 Self Op
Specifications
Model
W91 (No Indicating Dial)

W94 (Temperature Indicating Dial)

Service
Water, Steam, Other Liquids
Sizes
1/2'' – 4''
Connections
Threaded, Union Ends, 125# FLG 250# FLG
Body Material
1/2'' – 1-1/2'' Bronze/Stainless Steel

2'' Cast Iron (Direct-acting)

2'' Bronze (Reverse-acting)

2-1/2'' – 4'' Cast Iron

Seat Material
Stainless Steel
Max. Inlet Pressure
250 PSIG
Heating
In-To-Close    Normally Open
Cooling
In-To-Open    Normally Closed
Contact Us for more information on this product and to see other sizes that fit unique applications.
Typical Applications
The W91 & W94 Self-Operating Temperature Regulators are the preferred choice of original equipment manufacturers, mechanical contractors and specifying engineers. They require no external power source and are ideal for regulating the temperature of tanks, process streams and various types of industrial equipment. The Actuator is noted for its rugged die-cast aluminum housing, fully-enclosed bellows assembly and internal over-temperature range protection.
Model W91 Non-Indicating (without indicating dial) features a lower profile and should be specified where space constraints may be an issue.
Model W94 Temperature Indicating (with indicating dial) will allow the operator to verify the process temperature and to aid in temperature adjustment.